;
Presbyopia
Non-Diffractive EDOF IOLs Gaining Ground
Distance and intermediate vision improve with less glare and halos than diffractive alternatives. Howard Larkin reports from the 2022 ASCRS Annual Meeting.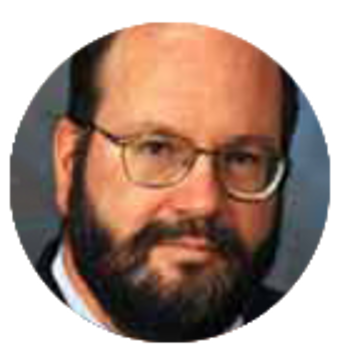 Howard Larkin
Published: Friday, August 5, 2022
When it comes to treating presbyopia, non-diffractive extended depth of focus intraocular lens (EDOF IOL) technology is the "new kid on the block," according to Thomas Kohnen MD, PhD, FEBO. These lenses can reduce optical disturbances such as glare and halos while offering similar depth of focus gains compared with diffractive EDOF and some multifocal IOLs.
For example, in a study Prof Kohnen conducted, 25% of patients implanted with the non-diffractive AcrySof® IQ Vivity™ IOL (Alcon) reported halos compared with rates of 60% to 70% reported for diffractive IOLs.i The non-diffractive Vivity scored better on night visual acuity and produced less glare and halos than the same manufacturer's PanOptix® trifocal - though the trifocal provided better near visual acuity, he added. Other studies have found bilateral Vivity patients have similar rates of spectacle independence with some diffractive multifocals.ii
MINI-MONOVISION
Implanting the Vivity targeting mini-monovision, with the dominant eye emmetropic and the non-dominant eye at -0.50 D, expanded the effective defocus range, resulting in 87% spectacle independence in a study Prof Kohnen co-authored – comparable to the bilateral PanOptix spectacle independence rate.iii A similar study also showed better near vision targeting -0.25 D to -0.50 D in the non-dominant eye.iv
"You can have an advantage using mini-monovision in these patients," Prof Kohnen said.
In some studies, diffractive EDOF IOLs deliver similar patientreported quality of vision as similarly designed monofocal lenses. For example, Mini WELL® IOL (SIFI Medtech) uses an engineered aspheric wavefront optic to extend depth of focus, broadening the defocus curve to offer better intermediate and near vision than the same manufacturer's monofocal Mini 4, with low optical disturbances. Measurements of internal higher order aberrations revealed a greater negative primary spherical aberration in the EDOF group at pupil sizes of 2.0 to 5.0 mm. At 5.0 mm, total internal HOAs did not differ significantly between the two groups.v
While patients tend to be satisfied with their better intermediate and even near vision with any EDOF IOLs, "the basic message always comes to how are these diffractive lenses and other types of lenses actually working in terms of visual disturbances," Prof Kohnen said. And non-diffractive models may hold the edge.
"I think non-diffractive lenses will be a choice in the future, and mini-monovision with non-diffractive EDOF lenses may make some patients spectacle independent. So, it's a good choice for patients who want less spectacle dependence after cataract or refractive surgery," he concluded.
i Kohnen T et al. Journal of Cataract & Refractive Surgery. 2022 Feb 1; 48(2): 144–150.
ii Hovanesian J et al. Clinical Ophthalmology. 2022 Jan 18; 16: 145–152.
iii Coassin M et al. European Journal of Ophthalmology. 2021 Nov 26; 11206721211064018.
iv van Amelsfort T et al. Journal of Cataract & Refractive Surgery. 2022 Feb 1; 48(2): 151–156.
v Greve D et al. Journal of Cataract & Refractive Surgery. 2021 Sep 1; 47(9): 1139–1146.
Thomas Kohnen MD, PhD, FEBO is professor and chair, Department of Ophthalmology, Goethe University, Frankfurt, Germany, and ESCRS treasurer.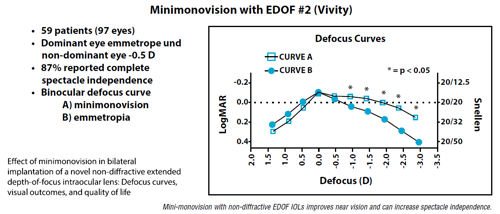 Latest Articles
;