Coming to grips with ocular surface disease in cataract patients
Ocular surface disease (OSD) is a major cause of suboptimal cataract surgery outcomes, but having a clear strategy and ensuring careful preoperative screening to detect potential issues can help to avoid many of the pitfalls associated with OSD in cataract patients, according to a presentation at yesterday's Cornea Day session.
Allan R. Slomovic MD, professor of ophthalmology at the University of Toronto, Canada, focused his presentation on three principal ocular surface problems: pterygium, epithelial basement membrane dystrophy (EBMD), and dry eye disease (DED).
To effectively deal with a patient who presents with both pterygium and cataract, it is critical to understand the effects that the pterygium has on corneal topography.
"It causes flattening of the cornea in the area of the pterygium, results in irregular with-the-rule astigmatism and an increase in higher order aberrations," he said.
Dr Slomovic advised first removing the pterygium with a conjunctival autograft, then waiting six to eight weeks to obtain stable keratometry and topography. Once this has been achieved, the surgeon can proceed with biometry and phacoemulsification to remove the cataract.
Anterior basement membrane dystrophy is the most common corneal dystrophy and is especially significant if the changes are manifested in the visual axis, explained
Dr Slomovic.
He presented the case of a 75-year-old male with declining visual acuity who was referred for consideration of cataract surgery. The patient had two central Salzmaan nodules and irregular astigmatism. Six weeks after superficial keratectomy to remove the nodules, the best corrected visual acuity recovered to 20/25 and cataract surgery was avoided.
For cases of DED, Dr Slomovic emphasized the importance of addressing the problem preoperatively.
"DED can cause corneal staining and abnormalities in keratometry, topography and biometry," he said. "Dry eye treatment leads to changes in IOL power calculations and postoperative refractive outcomes. Therefore, assessing and treating patients for dry eyes prior to cataract surgery is important in maximizing refractive outcomes."
The role of the ophthalmologist is to optimize the ocular surface prior to and after surgery and to set realistic expectations by explaining to the patient that they have two separate conditions that need to be treated, he said.
"If you tell the patient about their ocular surface disease before the surgery, they own it," he said. "However, if they only become aware of it after the cataract surgery, they will presume that the surgeon caused the problem."
Particular vigilance is needed in the use of non-steroidal anti-inflammatory drugs (NSAIDS) in the presence of DED, as it can lead to corneal melts and perforation, warned Dr Slomovic.
"We now have seven studies in the scientific literature reporting the association of NSAIDS and corneal melts in the setting of cataract surgery," he said.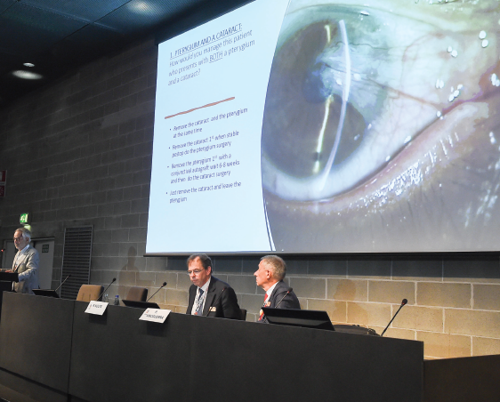 Published
Saturday, September 17, 2022
Category
Cornea