Advanced FEBOS-CR Exam/ Diploma (Cataract and Refractive Surgery)
The FEBOS-CR Examination
Applications are now CLOSED
FEBOS-CR has been developed by the EBO and ESCRS to certify the expertise and advanced knowledge of experienced cataract and refractive surgeons. Successful candidates earn the right to use the post-nominal title FEBOS-CR to show they:
hold a superior theoretical and practical knowledge
can deal with more challenging cases and a complex case mix
appreciate the importance of evidence-based medicine, and its purpose in developing scientific knowledge and clinical practice of the subspecialty
are, or have the ambition to become, trainers and leaders in the cataract and refractive surgery subspecialty
Candidates must therefore be independent surgeons with a varied case mix who regularly deal with complex situations, and who are willing to be challenged by having their expertise and theoretical knowledge tested by a rigorous theoretical examination and interviews with some of the opinion leaders in European and worldwide ophthalmology.
EBO-ESCRS Subspecialty Exam
Vision
The subspecialty examination in Cataract & Refractive Surgery is intended to provide formal recognition of subspecialty training and expertise in the field. Ultimately it will help to harmonize and improve cataract & refractive surgerical care across Europe.
Purpose
To have a structure within which ophthalmologists who specialise in Cataract & Refractive Surgery have their skills and expertise assessed, acknowledged and certified
To define the knowledge that the specialist in Cataract & Refractive Surgery holds
To be recognised as a quality examination and consequent qualification for Cataract & Refractive Surgery specialists
To encourage standardised training/teaching and standardised care across Europe
Background
The European Board of Ophthalmology (EBO), in collaboration with the ESCRS, organizes an annual subspecialty exam in Cataract & Refractive Surgery with the aim to formally recognizing subspecialty training and expertise in that field. By introducing exam criteria and standards, the EBO-ESCRS wish to harmonize and improve training across Europe.
Means
Specialists in Ophthalmology with particular interest and experience in glaucoma have the opportunity to have their knowledge and expertise tested and officially acknowledged by sitting the EBO-ESCRS Cataract & Refractive Surgery Subspecialty Exam. Successful candidates will be awarded a diploma: the Fellow of the EBO Subspecialty Cataract & Refractive Surgery Diploma (FEBOS-CR diploma). This diploma is recognized as a proof of advanced knowledge and competence in this field.
Examination Deadlines 
•    Monday 12 December 2022 applications open 
•    Friday 31st March 2023 all materials submitted by applicants, as well as the non-refundable deposit (€150) paid and applications close  
•    Friday 19th May 2023 confirmation for eligible candidates to sit the examination
•    Friday 16th June 2023 candidates confirm intent to sit examination, and pay balance of examination fee (€700)
•    Monday 11 September 2023 date of Examination 
Supporting Materials Required by the Applicant 
A letter from a Director/Head of Department/other senior figure in your Institution that recommends you as a surgeon of advanced experience and expertise. If you are in this role, the Practice Manager can sign and stamp the letter instead. 
A video of a complex case you operated on, which demonstrates your current skillset. This video should meet the following criteria (failure to do so will lead to rejection of the video and thus the application):  
MP4 format 
Titled as follows: "LAST NAME_FIRST NAME_CASE TYPE.mp4" 
Maximum 5 minutes. Editing should not affect the core surficial procedure. 
The video must be the sole work of the candidate, and must state that this is the sole work of the candidate 
There must be no music, narration, or credits on the video  
Include the following steps (videos will be judged to determine suitable candidates for the examination): incision, capsulorhexis, hydro dissection, nuclear disassembly, irrigation/aspiration, IOL implant and closure. More information is available in the curriculum 
No FLACS, the surgery must demonstrate your current skill set in a complex situation 
No patient-identifiable information should be included/ remain in the video.  
Provide the following information about the complex surgery video in the CV/ Application: Background case data and a short description of what makes the surgery complex for you 
Completed CV/ Application, which lists surgical, teaching and publication experience. A section of this form also asks for information on the complex video you submit
If you have any queries please email education@escrs.org  
Free online learning platform for ESCRS members
ESCRS iLearn
ESCRS iLearn is an online learning platform free for ESCRS members. There are 22 courses available, offering nearly 50 hours of content covering visual optics, cataract surgery, refractive surgery and cornea topics.
The courses are designed to be user-friendly and engaging with clinical images, surgical videos, quizzes to test your knowledge as you proceed, and final assessments so that you can be confirmed in what you've learned. Many courses also have CME accreditation.
This is an invaluable tool for young ophthalmologists, trainers and trainees who want to learn about anterior segment surgery.
Also available: the ESCRS iLearn Tasklist allows trainers to assign courses to trainees, and monitor their progress over the assigned period.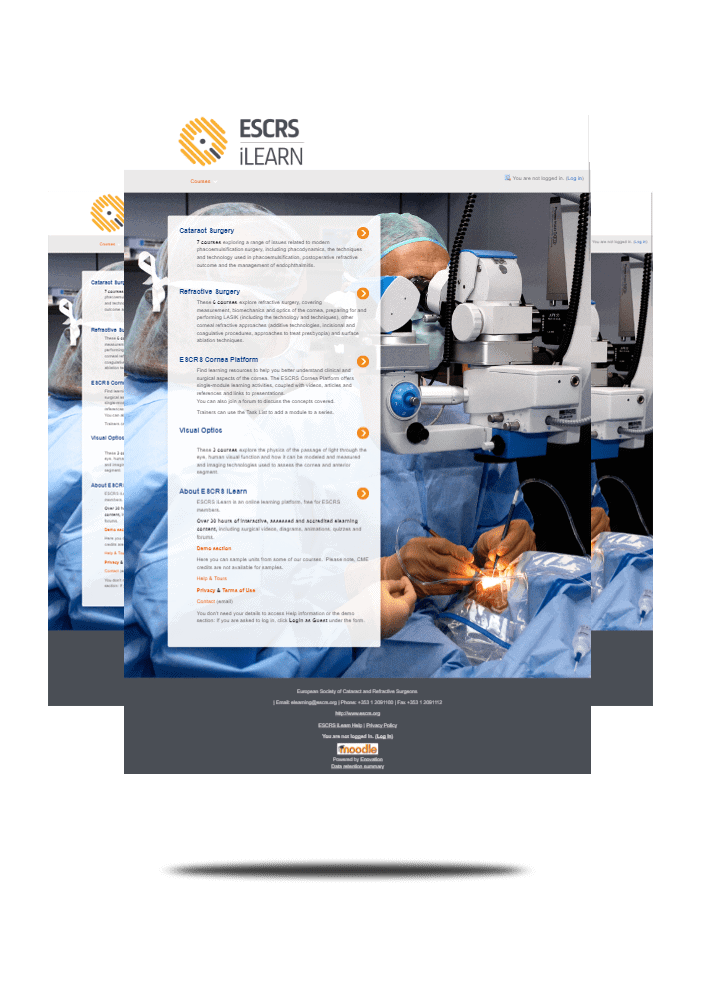 Portals & information
ESCRS Research Portals
The ESCRS funds and help to run several research projects at any one time.
This page brings you information on all the projects currently underway, and also collates all presentations, publications and interviews with projects leaders on projects that have been completed.
Where relevant, all study reports and guidelines related to these projects will also be available here.
Important Publications
Landmark Articles
Single articles from a range of journals (selected by members of the ESCRS Publication Committee) are made available to download from a dedicated page on the ESCRS Education website. The papers chosen will be updated each quarter. Each listing will include the title, authors, publisher and a short description.
We will also be introducing an online journal club element to this project.
Previous Congress Presentations
ESCRS on Demand
ESCRS on Demand is an online library of presentations, ePosters and videos from ESCRS Congresses and Winter Meetings going back over 10 years. It's a free online service for all ESCRS members. When you load a presentation, you'll be able to see all the slides and hear the speakers lecture as they proceed.
This is an invaluable tool for anyone who attends ESCRS Congresses. You can look back on interesting presentations, or even find something that you may have missed, which is easy at such a busy congress.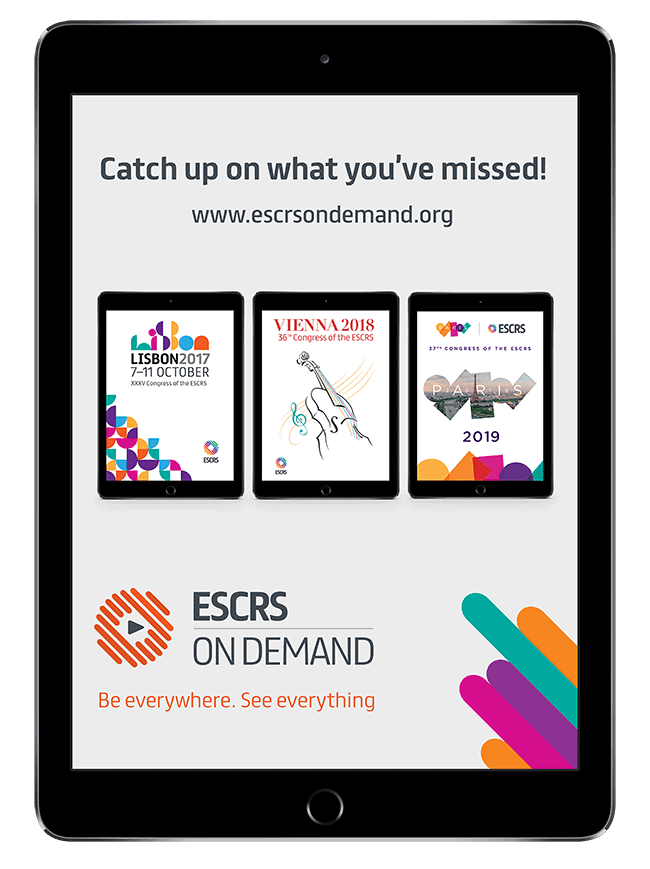 JCRS Updates
JCRS Online Case Reports
Access the latest case reports.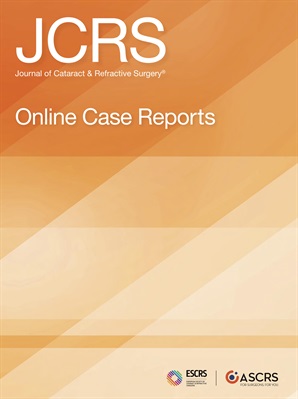 The Video Journal of Cataract, Refractive and Glaucoma Surgery (VJCRGS)
The VJCRGS produce a quarterly resource which offers at least an hour of the highest quality education for the anterior segment surgeon. We feature an international cast of surgeons who show innovative techniques, challenging cases, complication management, and award-winning videos and named lectures. The VJCRGS also offer the Video Journal to every teaching institution as well as any practicing ophthalmologist interested in viewing the issues free of charge.