Supplement: ESCRS 2019 Clinical Trends Survey Results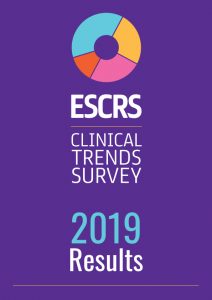 This report contains the results of the 2019 ESCRS Clinical Trends Survey, conducted at the 37th ESCRS Congress in Paris, France. Delegates also had the option of taking the survey online at the ESCRS website. Questions addressed several areas of clinical practice, including general cataract surgery, astigmatism and toric IOLs, presbyopia correction, glaucoma and ocular surface disease.
More than 2,100 doctors responded to 156 questions, which were developed and reviewed with the ESCRS leadership and substantiated by a data scientist. The survey results help ESCRS to better identify the educational needs of its members and the ESCRS leadership continually refers to the results of the annual surveys and the feedback they elicit. The collected data also enhances the education featured at the ESCRS Annual Congress, the ESCRS Winter Meeting and other educational channels, such as
EuroTimes
articles and online forums.
We invite you to study the survey's key findings and be ready to take advantage of upcoming educational events. ESCRS encourages all delegates to participate in the 2020 ESCRS Clinical Trends Survey here.
Download Supplement - click here
Published
Wednesday, December 9, 2020