Weighing options in cataract and corneal endothelial disease
Several viable options exist for the surgical treatment of patients with concomitant cataract and corneal endothelial disease, but there is no "one size fits all" approach that consistently delivers optimal outcomes for these complex cases, according to Björn Bachmann MD, FEBO.
Speaking at the Cornea Day session on cataract surgery in the patient with ocular comorbidity, Dr Bachmann noted the increasing demand in recent years for so-called triple Descemet membrane endothelial keratoplasty (DMEK) surgery, which combines cataract surgery, IOL implantation, and DMEK in one procedure.
"There is a significant and growing population of patients with cataract and corneal endothelial diseases, and we need to have a strategy to be able to deal with them in the future," he said.
Dr Bachmann said that the key question is whether combined (triple-DMEK) or sequential cataract surgery and endothelial keratoplasty is the best approach for these patients.
"All surgical approaches have their advantages and disadvantages," he said. "The advantages of triple-DMEK are that phacoemulsification and lens implantation do not affect the graft, while the downside is inaccurate IOL calculation and variable pupil size during DMEK with this approach."
There are two options for sequential surgery, said Dr Bachmann: cataract surgery and then DMEK surgery, or DMEK surgery followed by cataract surgery.
"The advantage of the first approach is that DMEK may be avoided if the patient is satisfied and comfortable after cataract surgery alone," he said. "The disadvantage is the possibility of further endothelial decompensation and corneal opacification while waiting for DMEK. And there is also the risk of a hyperopic shift if the patient does proceed to have DMEK surgery."
If the surgeries are inversed and DMEK is performed first, the main advantage is improved predictability of IOL calculation, while the downside is that the cataract surgery will decrease the endothelial cell density of the DMEK graft, said Dr Bachmann.
Based on the available evidence and his own clinical experience, Dr Bachmann said that triple-DMEK is a viable option in patients with pronounced corneal oedema and cataract with significantly reduced visual acuity.
"These patients will benefit in quality-of-life gain through rapid success with combined surgery, although it is important to take into account the presumed postoperative posterior to anterior corneal curvature radii ratio to ensure optimal outcomes in these cases," he said.
Patients with mild corneal oedema and mild cataract might be bothered by postoperative refractive error, he said. "Consider DMEK first in extremely demanding patients and again take into the account the true posterior to anterior corneal curvature radii ratio for the IOL calculation," he said.
For patients without corneal oedema and with cataract, Dr Bachmann advised cataract surgery first to see whether the problem has been sufficiently resolved and transplant surgery might be avoided.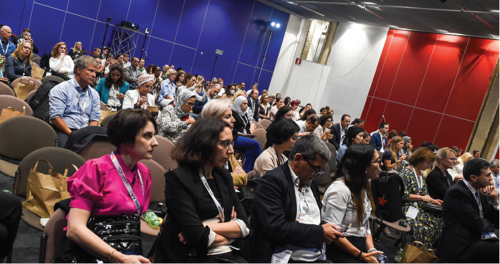 Published
Saturday, September 17, 2022
Category
Cornea
Tags
40th Congress of the ESCRS