The Wind of Change
By Idoia Goñi Guarro
The following essay was a runner-up in this year's ESCRS Henahan Prize Essay Competition. Writers were asked to address the question, "What can the field of ophthalmology do to meet the pressing challenges of climate change, sustainability, and social equity?"
Glaucoma, a chronic, silent, and asymptomatic condition at its onset that becomes symptomatic as it progresses and has an uncertain prognosis when risk factors are not well controlled. Glaucoma, a condition that may lead to irreversible changes in quality of life and loss of vision worldwide.
Does it sound familiar? Now replace the term glaucoma for climate change. It could easily do, right? Could we use, then, our model in the fight against glaucoma to prevent the discouraging results of climate change?
"The eyes are useless when the mind is blind" —Mark Venturini
Earth's climate has changed throughout history and has been doing so for hundreds of years and was invisible to the human eye until a few decades ago. Noticeable changes are present nowadays and will not revert to their starting point because, like in glaucoma, what is lost can rarely be recovered.
Therefore, the best we can currently do is to recognise and act on risk factors in order to gain sustainability and equal opportunities in a safe and healthy environment.
"Ophthalmology as a specialty needs to do its part in making a difference" —Dr Soosan Jacob MS, FRCS, DNB
According to "Health Care Without Harm Europe", the health sector is estimated to account for 5% of European carbon emissions.
It is known that one cataract surgery equals driving a car for 500 km, and for each 100 km, two trees are lost. That makes a total of 10 trees depleted per cataract surgery. Imagine the forest destruction caused by nearly 4.5 million of yearly cataract procedures performed worldwide.
Have you ever realised how much sterilised packaging material is being used for one single patient? What about replacing the single packaging of each item with having all of them in a unique "custom pack"? Does eye surgery require covering the patient with multiple plastic layers? And what about the unused surgical supplies, where do they go?
The total carbon footprint of the first eye cataract surgery procedure in a patient equals 181.8 kg CO2eq, where the procedure itself accounts for more than half of the value.
Could we reduce emissions from patient travelling by implementing a telemedicine approach? Decrease the electricity emission by using renewable resources?
Furthermore, if we think about the intraocular lens (IOL) packaging, as described in the study of Morris et al., an IOL weighs less than 1 g, whereas the associated paper and plastic packaging weigh 64 g. This also includes a 70-page booklet in 11 different languages. Truth is, the IOL packaging is ruled by strict legislation, but that does not mean we cannot reach a consensus between governments and pharmaceutical companies, especially with them already being involved in carbon reduction strategies. Maybe the "less is more" rule should be applied here as well.
Coming back to glaucoma, life-long use of eyedrops is required for treatment. In recent years, preservative-free formulations are increasingly used, dispensed by single-dose vials instead of the classic multidose containers. Single-dose vials waste eight times more plastic and use nine times more energy for transportation than classic containers. A greener solution to this problem advocates moving from eyedrops to safe sustained-release drug delivery systems.
Development is integral to creating sustainability by balancing economic, environmental, and social equity. Environmental health is crucial for obtaining the prosperity of future generations. We should consider integrating the sustainability criteria into ophthalmology departments in order to decrease the emissions arising. By improving standards of care and sharing goals of responsible behaviour, we could contribute to sustainable development and social cohesion.
"There can be no Plan B because there is no planet B"—Former UN Secretary-General Ban Ki-moon
Nowadays, the world faces some challenging times with both the pandemic and re-emerging of widespread political struggles. The COVID-19 pandemic has taught us among other things that the world's slowdown had a positive impact on climate change, enriching us with a new perspective about giving rise to innovative sustainability strategies.
Technology has made medicine virtually available, education programmes have never been closer, and ubiquity of a common, invisible threat has never made us more aware of how small of a drop in the ocean we are. Could this experience ignite a new understanding of the common goal of humanity?
We, as ophthalmologists, have already recognised glaucoma as a silent thief of sight. Don't you think it's time to look at climate change in a similar way, as a silent thief of life? If so, then find the risk factors, ease the pressure they put on our pretty, blue-coloured ball, and mitigate the inevitable. Be the wind of change.
Idoia Goñi Guarro MD is an Ophthalmology resident in University Hospital Centre Sestre milosrdnice, Zagreb, Croatia. idoiagonig@gmail.com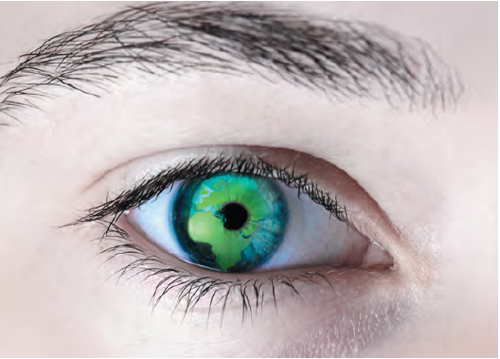 Latest Articles