Reducing Topical Drug Waste in Ophthalmic Surgery—A Multisociety Position Paper
By Artemis Matsou (Greece) and Imran Yusuf (UK)
With increasing awareness of the healthcare sector's environmental impact, it has become imperative to take measures to make eyecare environmentally sustainable. International ophthalmological societies are working in collaboration towards this aim—encouraging ophthalmologists around the world to redesign services and adapt processes to reduce the carbon footprint of ophthalmic care.
In the latest episode of the ESCRS Eye Journal Club, we discussed the Multisociety Position Paper from Palmer (et al.), "Reducing Topical Drug Waste in Ophthalmic Surgery", with Professor Oliver Findl (Austria, President of the ESCRS, board member of the EyeSustain Forum) and Professor David Chang (United States, Past President of the ASCRS, Chair of the EyeSustain Forum). This paper presents three recommendations regarding the safe and responsible use of perioperative topical medications in cataract surgery to reduce unnecessary waste, as endorsed by four Societies—the ASCRS, the AAO, the AGS, and the OOSS.
The recommendations are:
Topical drugs in multidose containers can be used on multiple patients in surgical facilities if proper guidelines are followed.
Topical drugs in multidose containers can be used until the manufacturer's labelled date of expiration if proper guidelines are followed.
When applicable, patients should be able to bring their partially used medication home for postoperative use.
Prof Chang, one of the paper's co-authors, discussed the importance of these recommendations, describing how regulatory obstacles were overcome to challenge embedded wasteful policies that lack an evidence base (i.e., discarding eyedrops after an arbitrary period). Agreement between professional societies and regulatory agencies for pharmaceutical use in the operating room reinforces the credibility of the recommendations and assures their adoption. Although these specific recommendations may be more relevant to ophthalmic practice in the United States, Prof Findl highlighted that these recommendations could inspire improvements in the sustainability of eyecare in other settings. In Europe, a wide variation in regulations and practices between countries may require bespoke recommendations which align with the principles outlined in this paper.
The Ophthalmic Instrument Cleaning and Sterilization (OICS) Task Force survey, conducted both in the US and Europe, revealed the majority (98%) of respondents feel it is safe to use eyedrops from multidose bottles on multiple perioperative patients. However, in practice, less than 50% do so, indicating obstacles—including fear of litigation.
Professors Findl and Chang feel the current practice is moving away from postoperative use of antibiotic drops, given the evidence of low rates of endophthalmitis with intracameral antibiotics. At Prof Findl's institution, dropless cataract surgery has been the practice for nearly 10 years. Meanwhile, studies are underway (the ESCRS EPICAT trial) using intraoperative anti-inflammatory drug delivery to replace the need for postoperative drops. Close collaboration between ophthalmologists and industry should enable further refinements that reduce waste (equipment and medication) in cataract surgery.
The volume of cataract surgeries performed worldwide are such that small refinements may have huge beneficial impacts on the environment. We should all strive to make our practice as environmentally sustainable as possible. Both experts recommend the EyeSustain Forum as a valuable source of information on this topic: https://eyesustain.org.
Source:
Palmer DJ, Robin AL, McCabe CM, Chang DF; Ophthalmic Instrument Cleaning and Sterilization Task Force. "Reducing Topical Drug Waste in Ophthalmic Surgery: Multisociety Position Paper". J Cataract Refract Surg. 2022 May 20.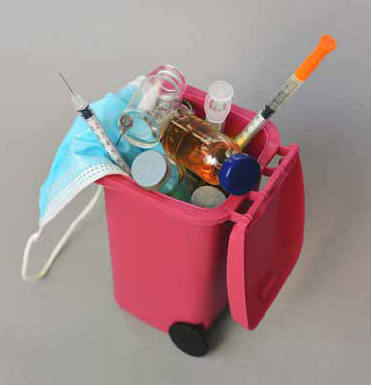 Published
Friday, September 30, 2022