Ocular
Lessons of War
Orbital trauma requires a team approach.
Clare Quigley
Published: Wednesday, August 31, 2022
Daniel Briscoe MD, Consultant Oculoplastic and Orbital surgeon and Head of the Department of Ophthalmology at the Emek Medical Center, Afula, Israel, gave a timely talk on orbital trauma as part of the Oculoplastics Specialty day at the Royal College of Ophthalmologists annual congress.
His talk was titled "Approach to orbital trauma: inspection, detection, decisions, and management".
"Orbital trauma is head trauma and not just of the eye, so you need to search for undetected injuries of the brain, maxillofacial structures, sinuses, and neck, including blood vessels and vertebrae," Dr Briscoe said.
He emphasised thinking carefully and focusing attention to detect the most important injuries. "Search for the undetected injury," he advised.
"Good communication with the neuroradiologist will help you make decisions. Look out for a tight orbit, globe injuries, eyelid injuries, and CSF leaks, and check for abnormal mouth closure," Dr Briscoe said.
Preservation of vision may require orbital surgery. Urgent orbitotomy to release retro bulbar bleeding or perform optic nerve decompression may be needed in a few cases, but this is not common, he said.
He emphasised the importance of prioritising ocular injuries appropriately.
"In the presence of globe injuries, it is better to delay orbital fracture repair until the eye is deemed stable. Eyelid injuries should be treated urgently. Multidisciplinary teams are often needed, so initial surgical repairs should be coordinated and maximised between the teams. Remember that this is only the beginning of a patient's journey, which can be longer or shorter depending on our decisions."
Dr Briscoe has had direct experience treating suicide bomb victims and presented cases with horrific injuries from the war in Syria treated by colleagues in Nahariya hospital, Israel.
"War and explosion injuries are a different trauma. Terrorist bombs are built to cause maximal bodily injury to people in their vicinity. They are packed with metal objects which penetrate the whole body, including the eyes. They also cause burn injuries and large shock wave injuries in enclosed spaces such as buses, trains, or buildings."
The ophthalmologist is usually one of a team of surgeons who operate on these patients. Multidisciplinary team involvement and careful surgical planning are essential without delay in these cases, he stressed.
"War injuries often involve neurosurgical procedures, reconstructing large areas of missing bone and tissue. Eyes are often repairable, so no effort should be spared to save them."
He reflected on the personal effect on surgeons who treat the severely injured.
"Terrorist bombs and war injuries can have a great emotional toll on the treating surgical team. I was involved in treating patients in several bomb attacks. I found it a very traumatic experience particularly dealing with the parents of injured or dying children—and later on, with recovering children themselves. I don't have any particular advice on how to deal with it, and I would not wish it on anyone. However, I think talking to colleagues involved in treating victims helped each of us cope in his own way and carry on."
Daniel Briscoe MD is a Consultant Oculoplastic and Orbital Surgeon, Head of the Department of Ophthalmology at the Emek Medical Center, Afula, Israel, and graduate of the Royal College of Surgeons, Ireland. dr.danielbriscoe@gmail.com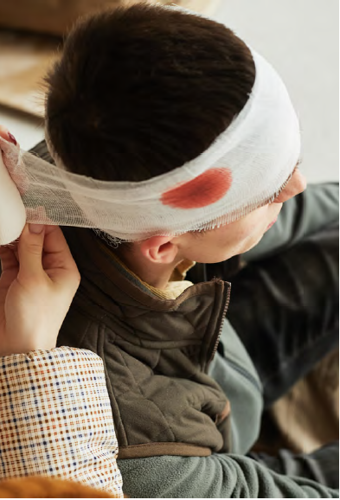 Latest Articles