;
Cataract
Drug-Eluting IOL Haptic Ring May Enable Dropless Cataract Surgery
Controlled-release implant may reduce eyedrop side effects and compliance risk.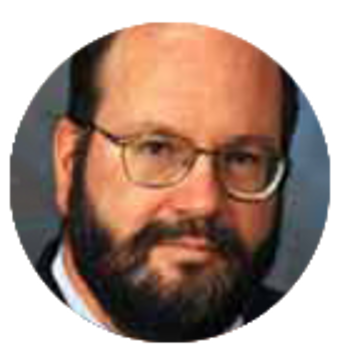 Howard Larkin
Published: Friday, September 30, 2022
Complications—such as delayed healing and corneal melts—sometimes seen with topical non-steroidal anti-inflammatory drugs (NSAIDs) after cataract surgery could be reduced by implanting a drug-eluting ring now in development.
By eliminating the need for postoperative eyedrops, the OcuRing (LayerBio) could also guarantee medication compliance and improve patient satisfaction, according to Kenneth J Mandell MD, PhD.
OcuRing provides all the benefits of NSAIDs while reducing the risks associated with topical NSAID administration, which can be greater for people with diabetes, dry eye, or rheumatological disorders, Dr Mandell said—noting these patients make up more than 30% of the target market.
PHASE 1 STUDY
Compatible with most one-piece and three-piece intraocular lenses (IOL), the OcuRing-K is a bio-erodible elastic ring that slips over the end of an IOL haptic and injected with the lens using standard surgical technique. The OcuRing-K contains the NSAID ketorolac, which is sustainably released for several weeks as the implant bio-erodes.
NSAIDs are highly effective in reducing pain and inflammation and decreasing the risk of macular oedema after cataract surgery, Dr Mandell noted. "We picked ketorolac as the active ingredient because of its long history of safety and efficacy in multiple ophthalmic products."
A phase 1 study involving five patients implanted with OcuRing-K who received no topical NSAIDs found 100% pain-free at 1, 7, and 28 days after cataract surgery, Dr Mandell reported. Both pain and inflammation measured at the same intervals were also substantially lower than in a historical comparison cohort treated with topical steroids.
"For the average or moderate-risk patient, we believe OcuRing-K has the potential to be a steroid-sparing monotherapy."
In the five patients studied, the ring did not move and had no contact with adjacent tissues. All eyes were pristine with no evidence of inflammation, Dr Mandell said. No steroids were applied, and no patient required steroids as a rescue therapy.
The phase 1 study has confirmed OcuRing-K's safety, efficacy, and compatibility with cataract surgical technique, Dr Mandell said. He plans a randomised phase 2 trial for next year and a phase 3 study for registration in the next two to three years.
Other products in development using the OcuRing platform include sustained release steroids for postoperative inflammation, prostaglandins for lowering intraocular pressure, long-acting NSAIDs to reduce cystoid macular oedema, and posterior capsule opacification (PCO) prevention with multiple potential targets.
Already, the OcuRing platform has shown 30 days sustained release of dexamethasone and moxifloxacin, Dr Mandell said. In a rabbit-eye model of cataract surgery, an OcuRing providing dexamethasone substantially reduced inflammation and PCO formation compared with dexamethasone eyedrops.
Dr Mandell spoke at the Innovators Session at the American Society for Cataract and Refractive Surgery 2022 Annual Meeting in Washington, DC, US.
Kenneth J Mandell MD, PhD is founder and CEO of LayerBio Inc, a clinical-stage biotechnology company based in Lexington, Massachusetts, US, developing the OcuRing and other therapies in ophthalmology. ken@layerbio.com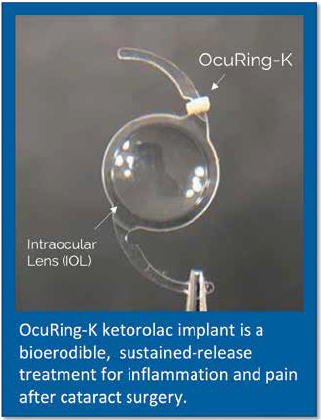 Latest Articles
;