;
Glaucoma
Approaching glaucoma patient care with a holistic view
In caring for patients with glaucoma, ophthalmologists need to ask about systemic medical conditions and medications because certain findings in these histories have effects on IOP and glaucoma risk, said Gerhard Garhöfer, MD, at the ESCRS Glaucoma Day.
"It makes sense to look at our patients as a whole. We should not only concentrate on the eye," said Dr Garhöfer, Medical University of Vienna, Austria.
Learning about a patient's blood pressure (BP) and existing treatment for systemic hypertension is important, especially considering that almost one-third of the world's adult population suffers from systemic hypertension.
"I am pretty sure that all of you have received questions from patients asking whether their systemic hypertension influences their glaucoma," Dr Garhöfer noted. The answer is somewhat complicated, he said. Although the available data show a statistical association between increased BP and increased IOP, the association is very weak from a clinical point of view.
An effect of low systemic BP on glaucoma risk has also generated interest, considering evidence pertaining to relationships between systemic BP and ocular perfusion pressure and between ocular perfusion pressure and glaucoma. However, ocular perfusion pressure cannot be directly measured, and the take-home message for clinicians on this topic is to be aware that patients with a very high IOP and a low BP are at considerably increased risk for glaucoma.
For patients who are being treated for systemic hypertension, ophthalmologists should ascertain use of a beta-blocker.
"Be aware that patients receiving systemic treatment with a beta-blocker have an average 1.0 to 1.5 mmHg reduction in IOP," Dr Garhöfer said. "Topical beta-blocker therapy for glaucoma may be less effective in patients on a systemic beta blocker, and taking oral and topical beta blockers together is associated with an increased risk for adverse effects."
Ophthalmologists should also be aware that patients who are being treated aggressively for their systemic hypertension with the goal of managing cardiovascular risk may suffer from nocturnal dips in BP that have been shown to increase risk of glaucoma progression. Dr Garhöfer suggested obtaining 24-hour BP measurements in these individuals.
Regarding other systemic diseases, he noted that a variety of inflammatory and autoimmune systemic conditions can also involve ocular structures and lead to increased IOP. The list includes sarcoidosis, Bechet's disease, HLAB27-related uveitis, juvenile idiopathic arthritis-associated uveitis, and Vogt-Koyanagi-Harada syndrome.
Considering that glaucoma prevalence increases with age, clinicians should recognise there is also an age-related increase in systemic medication use and that certain medications increase IOP.
"Two-thirds of adults aged 48 to 64 years, and 90% of people aged 65 years and older, take five or more medications," Dr Garhöfer said. "Do not only ask patients what diseases they have, but also what medications they are taking."
Corticosteroids, which are commonly used, represent the classic culprit, and this class of medications can lead to increased IOP regardless of the route of administration. Moreover, 30% of patients using corticosteroids experience an increase in IOP, and approximately 5% of individuals are "high responders," meaning their IOP will increase significantly.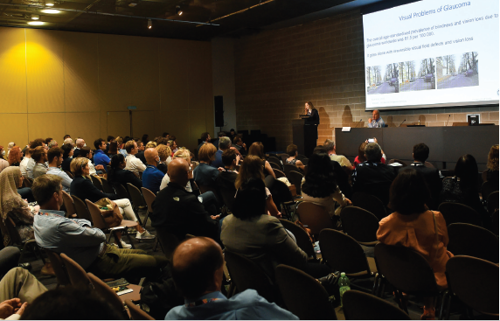 Tags: 40th Congress of the ESCRS
Latest Articles
;