;
3D Apps Could Benefit Patients and Clinicians alike
ESCRS 2022 Poster Highlights
It can be challenging to explain the complex anatomy of the eye to worried patients. Smartphone apps could help, but are they ready for prime time? George Liu MD and colleagues looked at what's available in app stores now.
"Patient education and understanding have been shown to improve outcomes by enabling engagement. Information relating to ophthalmic disease and surgery is often complex, pertaining to microanatomy of the eye and adnexa. The use of three-dimensional anatomical models in clinical consultations is one method that can improve patients' understanding of their ophthalmic condition(s) and procedure(s)," the researchers note in a presented poster.
The researchers conducted a systematic review of the two most commonly used app stores—the Google Play Store and the Apple App Store. They used the key term "eye anatomy", excluding apps unrelated to ophthalmology and those not offering a 3D function that could rotate 360 degrees. All relevant apps were evaluated by three parameters: 3D features, highlights of individual anatomical features, and cost.
The Google Play Store generated 250 results, of which 20 were relevant. The Apple App Store generated 211 results, of which 12 were relevant. Between the Play Store and App Store, there was an overlap of 7 apps. These apps offered a variety of 3D features, including 360 rotation, X-ray and animation modes, and virtual/augmented/mixed reality options. Of the relevant 25 Google and Apple apps, 76% offered a function to highlight individual anatomical features and 29% to view pathology.
About one-third of these apps were free. The remaining apps ranged in price from €1 to €42, averaging €11 per app.
None of the apps had verified studies to confirm correct anatomy. The researchers concluded that further improvements and content regulation from specialists are required to maintain a high standard of content.
"An improved model of 3D representation is required to improve communication and, thus, patient understanding. We consider 3D anatomical applications as the up-and-coming tool due to their versatility and accessibility. We hope to identify a simple yet effective software that can be used globally, anywhere, and in any setting (e.g., in clinics or virtual consultations) to bridge the gap between a patient's understanding and the doctor's," Dr Liu said.
Dr Liu is at Anglia Ruskin University, Chelmsford, UK. His colleague Dr Hasan Naveed is at Maidstone and Tunbridge Wells NHS Trust, Maidstone, UK. Colleague Christopher Liu is at Sussex Eye Hospital, Brighton and Sussex University Hospitals, NHS Trust, Brighton, UK.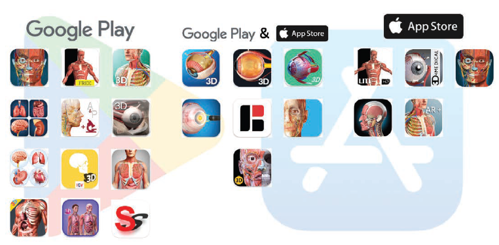 Published
Sunday, September 18, 2022
;