Charities Supported by the ESCRS
Support for Ukraine
The Society has decided to establish a fund to accept financial donations which will be directed exclusively to support ophthalmology-related relief efforts arising from the conflict in Ukraine. We can accept donations to the fund from ESCRS members as well as industry partners and fellow societies.
We are able to accept these donations via bank transfer and, if you are an ESCRS member and wish to contribute, please simply log in at this link https://donate.escrs.org using your membership details to access information on how to donate, which is a straightforward process. 
For industry partners or fellow societies, please email escrs@mci-group.com for information on how to make your donation. 
For our Ukrainian readers please click here for further useful information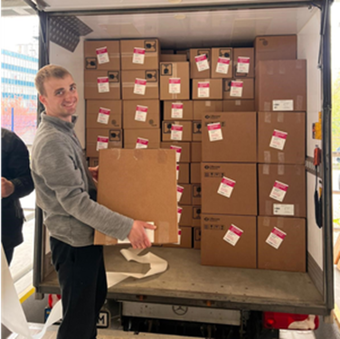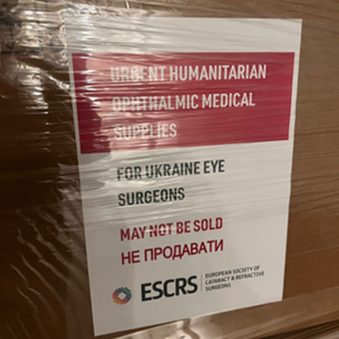 ---
Refugee Project 
Crete, Greece
In 2018, ESCRS donated funds to support a project providing eye care treatment to refugees in Greece. The project is run by the University of the Mountains, a voluntary, non-profit organisation in Crete. With the support from ESCRS, and support from Hellenic Society for Intraocular Implant and Refractive Surgery, the University of the Mountains set up a mobile unit equipped for carrying out eye examinations. Amongst the targets for the project is the preliminary diagnosis of keratoconus, which is extremely prevalent in the countries of origins for refugees.

Call for Surgeon Volunteers
If you are an ophthalmologist and would like information about volunteering for this project in Crete, please contact us at escrs@escrs.org for further information.
---
Eyes of The World Foundation
Mali & Mozambique, Africa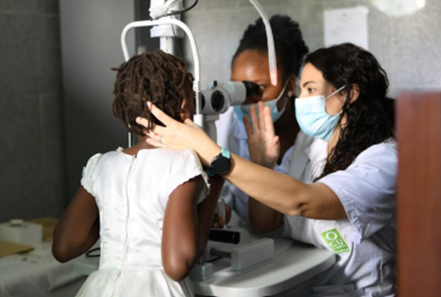 Eyes of the World is a non-profit organization that helps visually impaired people without economic resources living in under-developed countries. The goals are that these people receive qualified ophthalmic care from their local health services and that conditions are created to help reduce pathological ocular incidence in each region.
Eyes of the World also works at increasing public awareness in our social environment concerning the basic healthcare deficiencies in those places.

Eyes of the World announced the collaboration of ESCRS in the outreach activities organized on the occasion of Eyes of the World Night, an annual awareness, accountability and fundraising dinner in 2022. The dinner brought together ophthalmology professionals, laboratories and commercial houses, companies, representatives of institutions and friends in support of the Eyes of the World Foundation.  
The ESCRS has chosen to support the project, guaranteeing the right to eye healthcare through equitable access to public health systems in the province of Inhambane, with a human rights based gender approach, presented by the Eyes of the World Foundation.

DONATE HERE

---
Orbis
Myanmar, Southeast Asia
Since 2021, the ESCRS has played an essential role in helping to fund cataract surgery for the Rohingya community. Members of a stateless Muslim minority fled from Myanmar to Bangladesh, making Cox's Bazar home to the world's largest refugee settlement. Overburden on the existing local systems created an urgent need for massive humanitarian assistance, including for health and eyecare services, particularly for older people, women, and children. In response, Orbis, alongside local partners, began establishing and improving eye care services to provide the Rohingya people, and surrounding host communities, with access to eyecare in order to present and treat avoidable sight loss. For many, this was the first time they were able to access eyecare. 

Orbis has found that nearly 50% of those screened required treatment. The Rohingya Community experiences 3-6 times as many cases of operable cataracts in working-age people as the host population in South-East Bangladesh.

The ESCRS, Orbis and their partners were able to help an additional 260 cataract patients from the waiting list. All the surgeries were performed with the use of an intraocular lens (IOL), and completed successfully with no complications reported during post-operative follow-up. 

The ESCRS has helped restore sight for 260 people in the Rohingya refugee population, helping those who otherwise would not be able to access vital sight restoring surgery. With the support from the ESCRS and others, Orbis has continued to support local teams to integrate eye care into the healthcare services for the Rohingya Community and the host population in South-East Bangladesh.

"Fortunately, we had the opportunity to include 260 waiting list cataract patients for surgery with support from the general ESCRS. Although it was challenging to accommodate, we could complete all the surgeries to restore sight for this deprived population." - Shahid Uddin Mahmud, Manager - Program and Operation, Cox's Bazar Baitush Sharaf Hospital. 
---
BICO
Malawi, Africa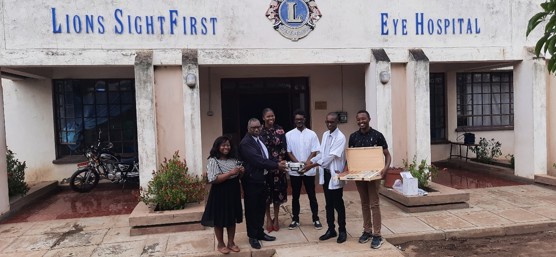 Cataract is the number one cause of blindness in Malawi, contributing to half of all cases in persons aged 50 and above. With only 14 Ophthalmologists available to a population of 20 million. Through support from ESCRS, BICO is implementing activities to fill up the gap of refresher trainings and elective replacements.       
BICO and the ESCRS have a clear objective to build capacities of different eye units in Malawi (Blantyre, Lilongwe, Zomba and Mzuzu). Supporting cataract surgeons refresher trainings as well as to support registrars in training, improving outcomes of cataract surgical services, addressing issues of case selection, surgical procedures through surgical training and provision of eye equipment, and reducing long term cataract sequel, through provision of good post operative care.  
The support from ESCRS for the first year has been able to: 
Enhance training of ophthalmic registrars in cataract surgery through placements for elective attachments in areas where high volume cataract
surgeries are performed.  


Allow Cataract Surgeons to attend skills refresher trainings at different eye hospitals within Malawi.


Provide additional Ophthalmic instruments and equipment for training.


Train and refresh mid-level eye health personnel in primary eye care including cataract case identification, case management and case follow up for adult and child cataract cases to have a comprehensive eye care program.
3 Ophthalmologists, 2 Registrars in training for Ophthalmology, and 8 Cataract Surgeons have benefited from this initiative, and participated in various capacity building activities for cataract surgery.  A total of 183 sight restoration surgeries have been performed to date, and supervision of cataract surgeons has been enhanced. Support for equipment to monitor progress of cataract surgery has been provided to registrars in training. 
---
Wau Teaching Hospital 
Raja County, South Sudan
The eye assessment of the cause of blindness was a big success and was highly appreciated by the communities as well as the authorities in Raja County, Wau and Western Bahr El Ghazal. Being a rare kind of services in these areas, the team for the eye assessment was warmly welcome. This assessment showed that more intervention and prevention mechanisms to fight against OV are needed, not only to avoid that more people from getting blind due to OV, but to give a quality of life for people other disfiguring complications like tiger skin or nodules.

The number of cataracts were 289 altogether, but only 67 people we found to have mature cataract either in one eye or both fit for surgery. They were booked for surgery in the eye campaign at Wau Teaching Hospital. A small team travelled to Raja and operated the 67 people and additional 23 people who attended the eye assessment. Altogether 90 people underwent cataract surgeries successfully in Raja County.

"We would like to highly acknowledge the financial support for implementing this project from the European Cataract and Refractive Surgeons (ESCRS). If it was not due to their support, it wouldn't be easy to conduct this project." - Catholic Diocese of Wau



---
St John Eye Hospital
Palestine, Western Asia
Brigadier Tom Ogilvie-Graham, the esteemed CEO of the ESCRS, visited the St. John Eye Hospital. During his visit, he engaged with the hospital staff and received updates on the project's progress. He also had the opportunity to meet with the two doctors from Ukraine who were participating in the project's obvservership training programme. 

Essentially, Tom joined one of the mobile outreach clinic missions to the most neglected and marginalised areas, where patients are facilitated for comprehensive charitable service delivery, exposing them to various eye conditions unique to Palestine. 

The diversity of cases encountered during the project highlighted the significant variation in pathologies present in Palestine. Through collective efforts, the St John Eye Hospital successfully operated 90 Phaco (cataract) surgeries, surpassing the initial target of 89 surgeries planned for the period spanning January 2023 to June 2023. 

DONATE HERE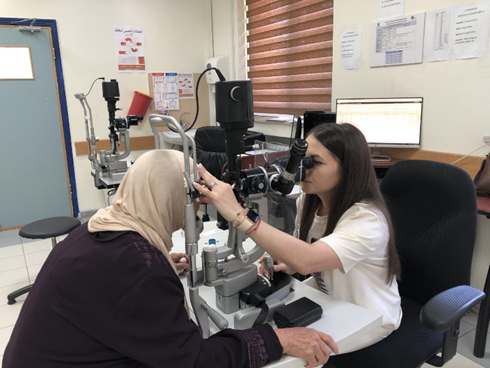 ---
The Ridley Eye Foundation

Nepal, Asia
Millions of people in Nepal, especially those who live in rural areas, do not have easy to adequate healthcare services. Major issues facing the nation's healthcare system include the discrepancies in access to healthcare between rural and urban area and the dearth of specialist medical care in rural areas. 

Geographical limitations make it difficult for rural residents to get medical care highlighting the need for more accessible healthcare services in remote locations. Organisations, such as the ESCRS have contributed to the improvement of healthcare services and the expansion of access to medical care for all rural populations.

DONATE HERE