Presbyopia & Astigmatism correcting IOLs: Key clinical opinions & practice patterns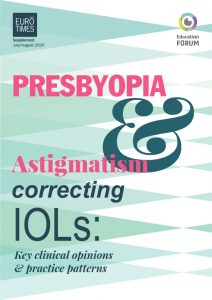 The objectives of the ESCRS Consensus Roundtable were to explore the current state of presbyopia- and astigmatism-correcting intraocular lenses and exchange clinical opinions and practice patterns. Discussions included the importance of correcting astigmatism in patients seeking spectacle independence, best practices in acquiring precise preoperative measurements and strategies to avoid and manage postoperative rotational or residual refractive error, along with insight to help increase patient satisfaction with their procedure.
The 2020 ESCRS Consensus Roundtable on Refractive IOLs was comprised of the following faculty: Dr Kohnen, Dr Ribeiro, Dr Reus, Dr Srinivasan, Dr Carones and Dr Cummings. All faculty members completed multiple consensus survey questions to help assess agreement on the key issues discussed.
Supported by an unrestricted medical education grant from Alcon and Johnson & Johnson Vision.
Download Supplement - click here
Published
Monday, August 17, 2020
Category
Toric IOLs, Presbyopia
Tags
Supplement